by Elana Diegel
Marketing Intern
We all have a
thing.
For me, it's wearing mis-matching socks every day. For one of my friends, it's the phrase "totes mcgee." And for Roy "Futureman" Wooten of
Béla Fleck and the Flecktones
, it's a pirate hat.
It's here in a photo from 1991: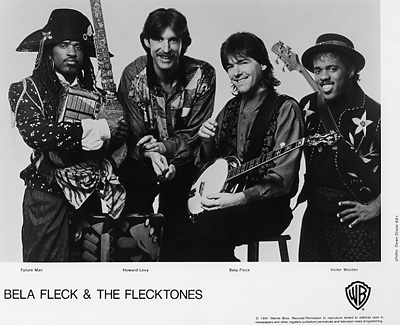 And here in two from 2011:
It's on-stage:
And in solo shots with his invented instrument, the drumitar.
But the triangle shaped black fabric is more than just a pirate hat. It's Roy Wooten's thing. It's there, always, representing his fun, creativity, and sense of not taking yourself too seriously.
The rest of Béla Fleck and the Flecktones seem to have taken up the spirit of the pirate hat. Their newest album,
Rocket Science
, is fun and creative, especially "Life in Eleven," a piece inspired by Eastern European folk music and in an 11/4 time signature. The
album cover
is whimsical and free. And their laughs (see below) are contagious.
I'll be in the theater on
Thursday, March 1 at 8pm
at the theater to hear Béla Fleck and the Flecktones play. I don't know if I'll figure out their thing at the concert, but I do know I'm in for a fun, creative, pirate-hat filled show.